Watch any video source on your Mercedes NTG4 Comand screen

Our NTG4 multimedia interface is a revolutionary product that allows you to integrate an external video source to your cars factory fitted screen. Once connected, it gives you the ability to connect an in car DVD player, games console such as a PS3 or XBOX 360, iPod video, digital TV tuner, rear view camera, car navigation GPS etc to keep passengers entertained.
The multimedia interface has a total of 2 AV inputs, rear camera input, AV out and RGBS connection to add satellite navigation if you do not already have the factory fitted option. The interface does not replace your original system; it offers perfect integration to maintain your OEM appearance. The CAN-BUS enables you to switch video input using the "return" button behind the gear shift.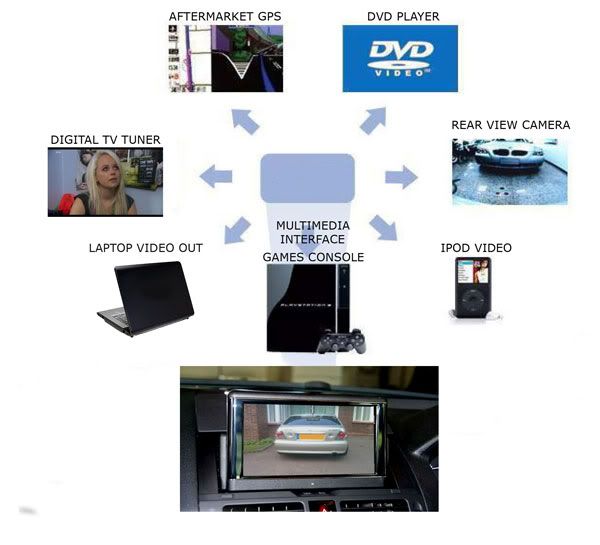 Features:

Watch any video source on your original factory fitted Screen.

Works on the move, allows any video source to be displayed while driving. No restrictions unlike the original Mercedes DVD system which turns off as soon as the car is in motion

.

Switch to the desired video source using the "Return" button or the included Toggle switch

Automatic switching to rear view camera when reverse gear is selected

High quality image processor enables the image to be displayed on the screen without any distortion or picture cropping

Three video inputs (two video and on rear camera)




RGB input for aftermarket GPS box (ideal if your car does not have factory navigation)

Plug & Play installation

Kit includes:
The multimedia interface works simply by interrupting the signal from the Comand control when you press the toggle switch or the "Return" button behind the gear shift. Installation involves removing the original connector on the back the screen then connecting it to the interface, then connect the cable supplied from the video interface back into your Command screen.

Compatibility:

Compatible with NTG4 with 7" (pop-out) monitor on the Mercedes C Class W204 or New E Class W212.
Also compatible with the Audio 20 and Audio 50 system.

Specifications:
BATT/ACC range : 7V~25V

Power : 0.3A @12V

Video input/output: 0.7V~1V

Video input formats: PAL B.G.D.K.I / SECAM /NTSC
They system is interned for passenger use only. We cannot accept any liability of any material or personal damages caused by the installation or use of this product. Therefore Installation of this product will be performed at the user full responsibility