Connect any video source to your Mercedes NTG2.5 Comand screen

Our multimedia interface is a revolutionary product that allows you to integrate an external video source to your cars factory fitted Comand screen. Once installed, it gives you the ability to connect an in car DVD player, games console, iPod Video, Digital TV Tuner or Rear View Camera to keep your passengers entertained. The multimedia interface has a total of two video inputs, rear view camera input and RGB connection to add Satellite Navigation if you do not have the factory fitted option.

The interface does not replace your original system - it offers perfect integration to maintain your OEM appearance.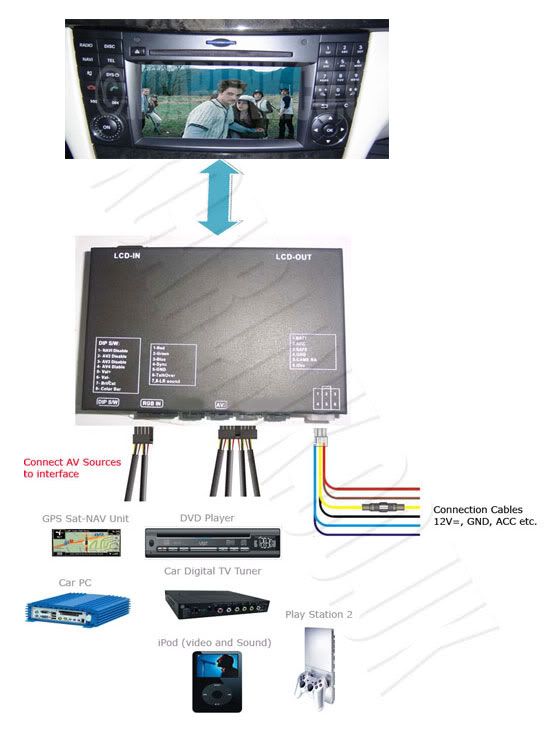 Features
Watch any video source on your original factory fitted screen.

Two video inputs

Rear view camera input - automatic switching when in reverse gear

RGB input for aftermarket navigation

Video in Motion - for connected video sources

Switch between Mercedes display and AV input using the toggle switch
The kit includes the following:
Mercedes NTG2.5 Multimedia Video Interface

Ribbon cable and daughterboard

Wiring loom

AV cables and toggle switch

Plug and Play harness


Installation manual
Installation
Installation involves connecting the supplied ribbon cable to the inside of the NTG2.5 Comand head unit. Connect the plug and play harness to the back of the head unit for power and ground.

Press the toggle switch to change from the original Mercedes screen to RGB > AV1 > AV2

Connect a 12v reverse supply if fitting a rear view camera. The interface will then switch to the rear view camera automatically when in reverse gear.
Audio
This interface is designed for video only.

Audio is provided by connecting the video source to the AUX input (if available) or an FM transmitter.

Compatibility:
Compatible with the Mercedes NTG2.5 Comand system (with the SD card slot) in the following models:
E Class W211 - 2008 onwards
R Class W251 - 2008 onwards
ML W164 - 2008 onwards
SL R230 - 2008 onwards
CLS Coup W219 - 2008 onwards
SLK R171 - 2008 onwards

Not compatible with the Mercedes NTG2 Comand system

Specification:
BATT/ACC range : 7V~25V

Power : 0.3A @12V

Video input : 0.7V~1V

Audio input : 0~5Vpp

Video input formats: NTSC

CAMERA wire : 0V ~30V, Trigger condition @>3V 3v >
Money Back Guarantee:
We have extensively tested this product and confident that it will work with all factory fitted systems in the car models listed below. You do not need have a factory installed TV Tuner or have anything enabled by an Mercedes dealer. Nor do you have to have to have any optional extras installed when the car was ordered. If for any reason you are not completely satisfied or have any issues with compatibility you can return it to us for a refund.
They system is interned for passenger use only. We cannot accept any liability of any material or personal damages caused by the installation or use of this product. Therefore, installation of this product will be performed at the user full responsibility.